Title: Small Great Things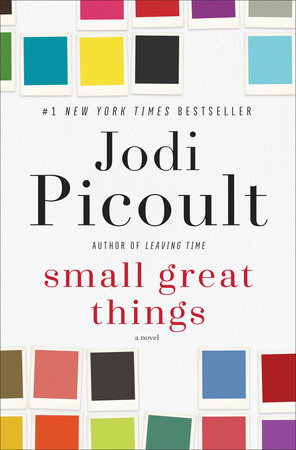 Author: Jodi Picoult
Pages: 470
Synopsis: After a white supremacist's (Turk) baby dies while in the care of an African American nurse (Ruth), he accuses her of murder and Ruth finds herself in the middle of her worst nightmare. Despite her Yale education, her 20 years of experience, and her skill at nursing, she finds herself on trial for something that she wouldn't have had to endure had she been a different color. Switching between the points of view of Turk, Ruth, and Kennedy (Ruth's public defense attorney), Picoult explores the sensitive issue of race in the US and in the courtroom, tackling the social mores that keep it in place, whether it's something that is realized (as in Turk's case) or not (in Kennedy's case).
Quote: "Active racism is telling a nurse supervisor that an African American nurse can't touch your baby. It's snickering at a black joke. But passive racism? It's noticing there's only one person of color in your office and not asking your boss why. It's reading your kid's fourth-grade curriculum and seeing that the only black history covered is slavery, and not questioning why. It's defending a woman in court whose indictment directly resulted from her race…and glossing over that fact, like it hardly matters."
Review: I'm always excited when a new Picoult book comes out, even though I've now come to expect the inevitable twist at the end of every story. I've been reading her stories since I was in high school and remember seeing her name long before that on the books my mother was always reading. It was so interesting to see how she tackled passive racism, and definitely pointed out things that I hadn't actively considered before, much to my shame. I'd be very interested to see a person of color's take on her book  and or what they would want to add or take away. If you're a fan of Picoult I'd definitely recommend it!